Canapé Menus
Cold Canapés – Vegetarian - £1.50 per Canapé
Bruchetta with Roasted Peppers & Parsley Pesto
Spinach Tortilla Wraps with Goats Cheese, Roasted Peppers & Mint
Marinated Mozzarella, Basil & Cherry Tomato Skewers
Caramelised Red Onion & Goats Cheese Tartlets
Asparagus Bruchetta with Hollandaise Sauce
Mushroom, Crème Fraiche & Tarragon served on Mini Yorkshire Puddings
Tiny Tartlets of Cream Cheese with fresh Chive & Quail Egg
Cold Canapés - Chicken & Meat - £1.50 per Canapé
Peking Duck Pancakes with Hois-Sin & Plum Dipping Sauce
Mini Yorkshire Puddings with Rare Roast Beef & Horseradish
Chicken Caesar Wraps
Melon & Parma Ham Skewers
Rocket with Parmesan wrapped in Parma Ham
Chicken Satay
Sesame coated Beef Skewers with Ginger, Honey, Soy Sauce, Spring Onion & Red Pepper
Cold Canapés – Seafood - £2.00 per Canapé
Tiger Prawns with Sweet Chilli Sauce, Sesame & Coriander in a pastry cup
Tiger Prawn Cocktail on a baby Gem Leaf
Smoked Salmon Blinis with Crème Fraiche & Dill
Crostini with Smoked Mackerel & Horseradish Cream
Poached Salmon & Dill Mousse in a mini Vol-au-Vont
Tiny Tartlets of Smoked Salmon & Cream Cheese
Tiny Tartlets of Crab with Lime & Mint Salsa
Hot Canapés – Vegetarian - £1.50 per Canapé
Mini Pizza with Mozzarella Rocket & Fresh Basil
Baby Jacket Potatoes with Gruyere & Chive
Goats Cheese & Caramelised Red Onion Tartlets
Bruchetta with Roasted Peppers, Parmesan & Parsley Pesto
Spring Rolls with Sweet Chilli Dipping Sauce
Roasted Vegetable with Pesto Dip
Mini Yorkshire Puddings with Garlic Mushroom, Cheese Sauce & Thyme
Mini Vegetable Samosa with Mango Chutney
Hot Canapés – Chicken & Meat - £1.50 per Canapé
Mini Bangers & Mash
Mini Beef Burgers
Baked Chicken & Chorizo Skewers
Crostini topped with Moroccan Lamb
Chicken Satay served with a Peanut Sauce
Mini Lamb Burgers with Harrisa Sauce
Mini Shepherds Pies
Mini Yorkshires with Roast Pork, Stuffing & Apple Chutney
Hot Canapés – Seafood - £2.00 per Canapé
Miniature Fish & Chips with Lemon & Tartare Sauce
Baby Cajun Squid Rings with Aioli
Salmon & Herb Fishcakes
Smoked Haddock Fish Pies topped with Cheddar Mash
Salmon Brochettes with Hoi Sin Sauce
Monkfish & Basil wrapped in Pancetta
Tiger Prawns & Chorizo Skewers
Thai Style King Prawns in Filo Pastry
Cold canapés can be served without any staff on site & will come garnished on platters ready for your event or party.
When ordering hot canapés please contact us for a quotation to provide staff to prepare & serve the food for you.
Hot canapé orders will require at least 48 hours notice.
Pricing is subject to VAT & has a minimum of 8 covers per order
Fresh Start looks forward to serving you.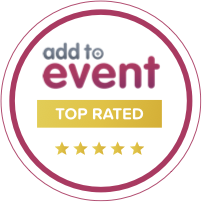 Testimonials
Thank you so much for providing such a great hog roast for the party on Saturday night. There were so many compliments about the food and everyone really enjoyed it- it was the perfect idea

....
Sarah and Brian, Marcus and Rory